Enjoying Hamadori
Seaside activities, from fishing to barbecues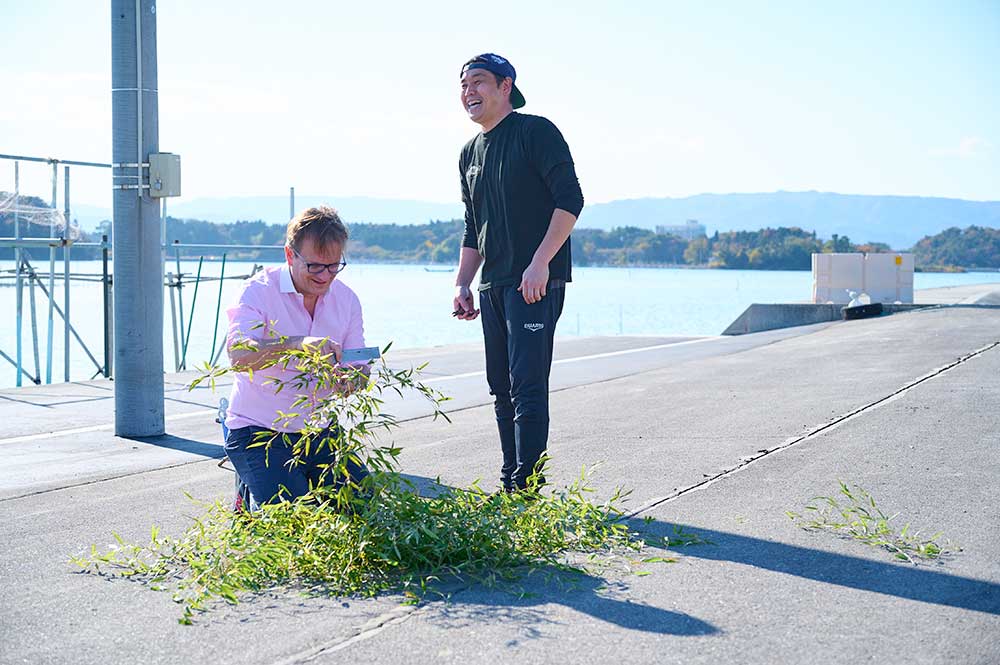 Matsukawa-ura Lagoon has been a seaside resort since the seventeenth century. From fishing to traditional seaside barbecues, it offers any number of traditional activities to enjoy.
For 60 years, Hiroyuki Hisata's family have been running Kameya, a traditional Japanese inn overlooking Matsukawa-ura Lagoon. "My great-grandfather started the inn," Hisata explains. "It was one of several jobs he had, along with farming clams and seaweed on the bed of the lagoon."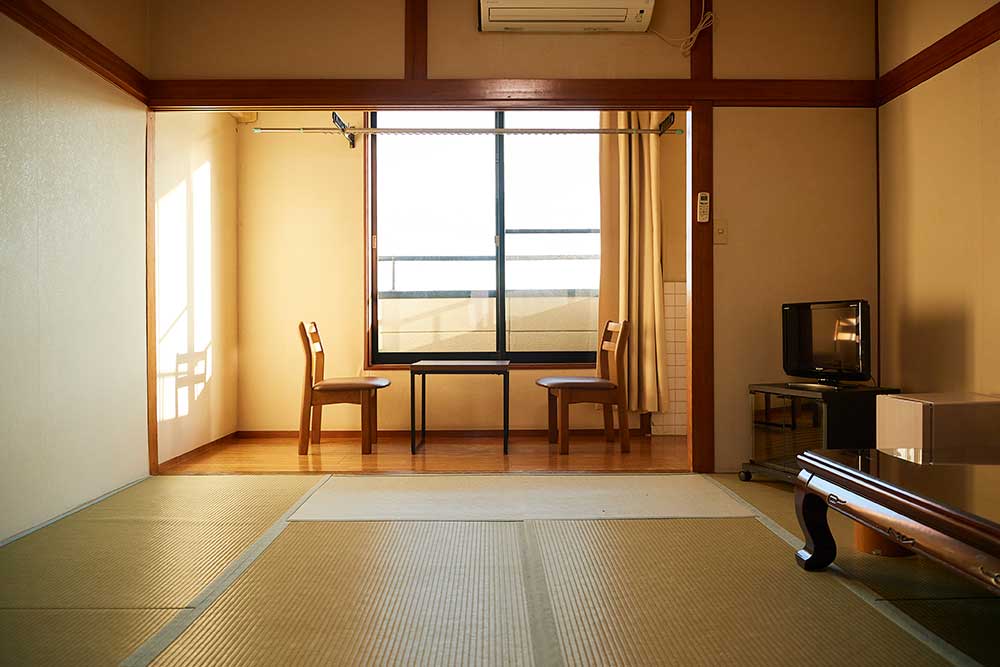 Hisata is now getting entrepreneurial himself, having joined forces with three other young local innkeepers to offer a menu of activities under the Matsukawaura Team Guide brand. They don't want tourists simply to ooh and aah at the beauty of the lagoon as they drive past it; they want them to get out and enjoy the traditional experiences that have made Matsukawa-ura a popular resort since feudal times.
The biggest hit with tourists from overseas is making a simple bamboo fishing rod and using it to fish for goby. This is done on a small wharf immediately opposite the inn. You first trim the branches off a length of bamboo with a small saw, then attach the bobber, swivel, sinker, and hook. Tying some of the necessary knots can be a little challenging, but Hisata's instructions—delivered in a combination of vivid onomatopoeic Japanese and bits and pieces of the "survival English" he picked up while on a working holiday in Australia—make the process painless. When your rod is ready, you sit down on the wharf and wait for the fish to bite—a surprisingly satisfying experience even if they fail to oblige!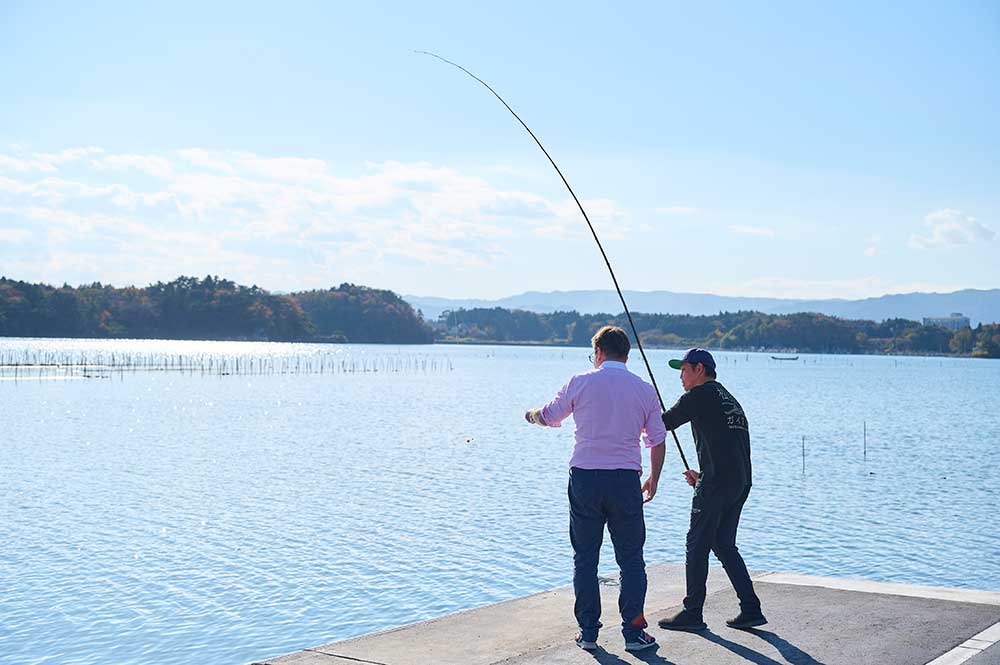 Other fishing options include crab fishing—particularly popular with parents with young children—and night fishing, using bright lights and a net to catch small crabs and fish. You can also try and catch a seahorse by pulling up a clump of bamboo branches pre-sunk in the lagoon by Hisata. "Once the leaves have wilted, seahorses, shrimps, and pipefish take up residence because the tangled branches protect against predators," HIsata explains. "We find a seahorse about 30 percent of the time."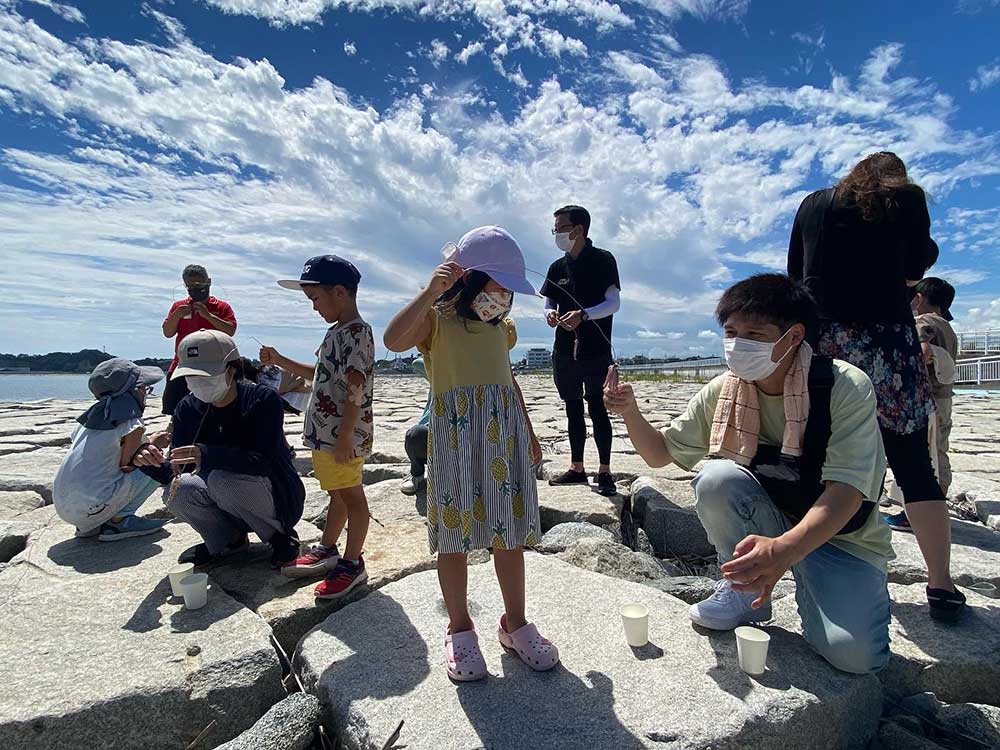 For people who prefer to skip the fishing and go straight to the dining stage, the hamayaki (beach barbecue) is highly recommended. Charcoal-grilling fish on bamboo skewers thrust into a bed of gravel needs close attention. The gravel needs to be coarse and irregular to keep the skewers upright and at the right angle, so the fish will cook properly.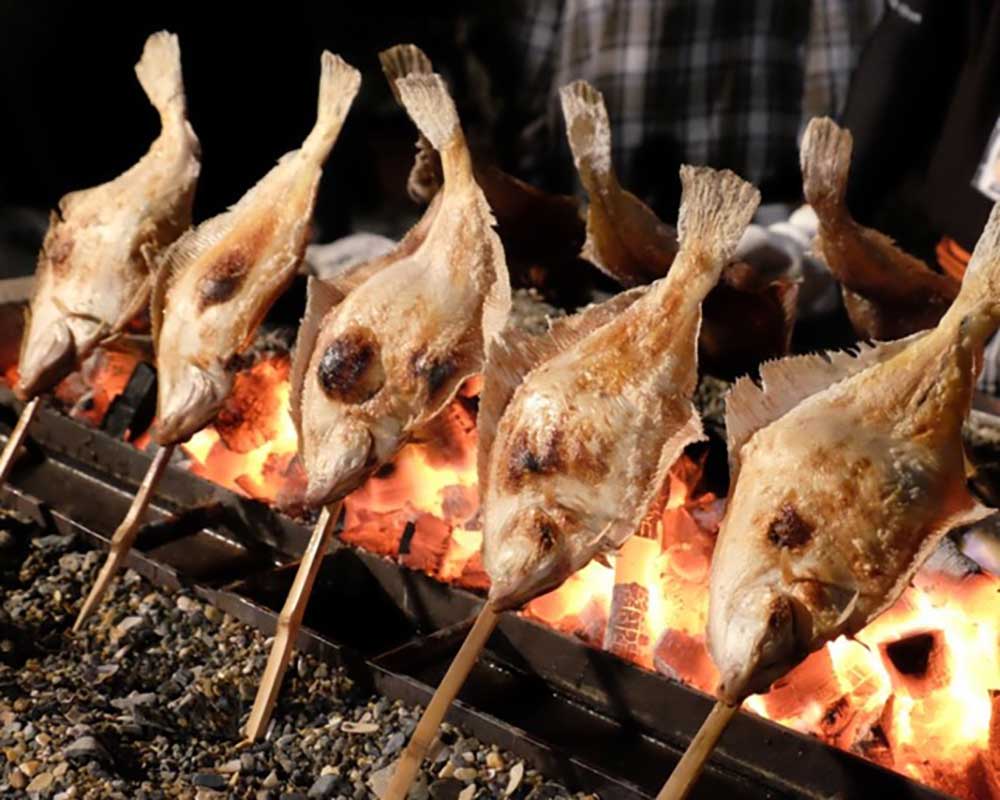 A big hit with nature-deprived city dwellers in search of a detox is the Moon Road Café. This option offers visitors a chance to enjoy tea and coffee along with traditional Japanese sweets while waiting for the moon to rise above the sea. "Tokyoites can't get enough of the sky at night," says Hisata.