Human Connections
A Tomato Paradise and More . . . .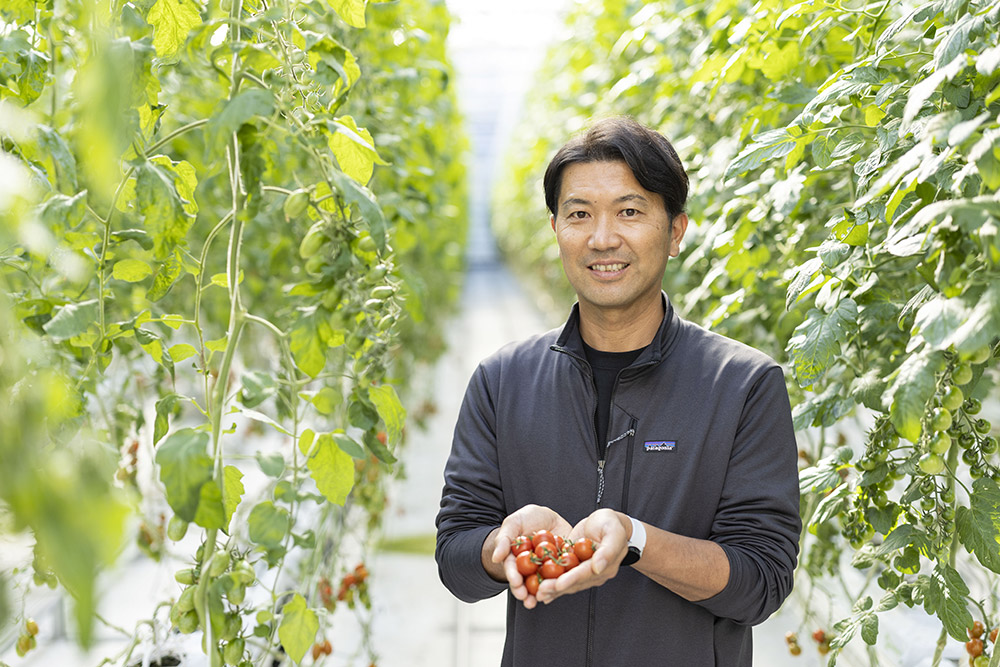 Surrounded by mountains and hills, Wonder Farm invites guests to visit its greenhouses full of fresh vegetables, shop at the market and dine at a gourmet restaurant.
Hiroshi Motoki, the president of Wonder Farm, explains how he started growing tomatoes as he gives us a tour of his greenhouses. "Sunlight is important for tomatoes, and Fukushima Prefecture ranks very high in the number of sunshine hours we enjoy," he says.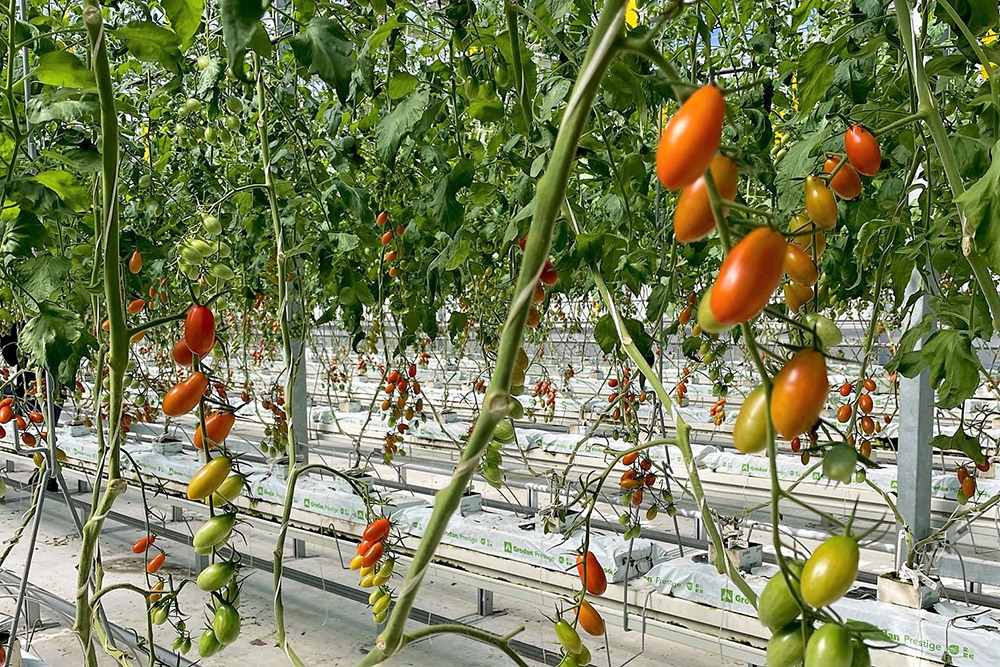 Hiroshi Motoki worked in Tokyo for the JR East railroad company for a number of years before moving back to his hometown in Fukushima Prefecture. He was 26 at the time, and he brought his wife and children along to take over his father-in-law's rice farm. Despite having no experience, he threw himself into farm work. Japan was facing an overproduction of rice at the time, and the government was encouraging farmers to switch to other crops. Motoki was eager to try something new. "I went to Holland to learn about the latest in greenhouse farming technology, because I was always thinking about the tomatoes I had loved since I was a child," he says. "But I didn't know anything about agriculture. So even though I introduced new techniques, I failed at first. It took many years of hard work before I finally started to understand it."
"I quit a job that people envied and threw myself into farming, which I knew nothing about," says Hiroshi Motoki.
Just as his greenhouse tomato business was starting to become profitable, the Great East Japan Earthquake struck in 2011, shaking the farm and its finances to its foundations. But Motoki is an ideas man, and he joined with other farmers nearby to improve their livelihoods by developing e-commerce sales. As part of his efforts to revitalize the area, in 2016 he began focusing mainly on growing tomatoes, while expanding into the "leisure farm" business—one that diversifies into other activities such as tourism.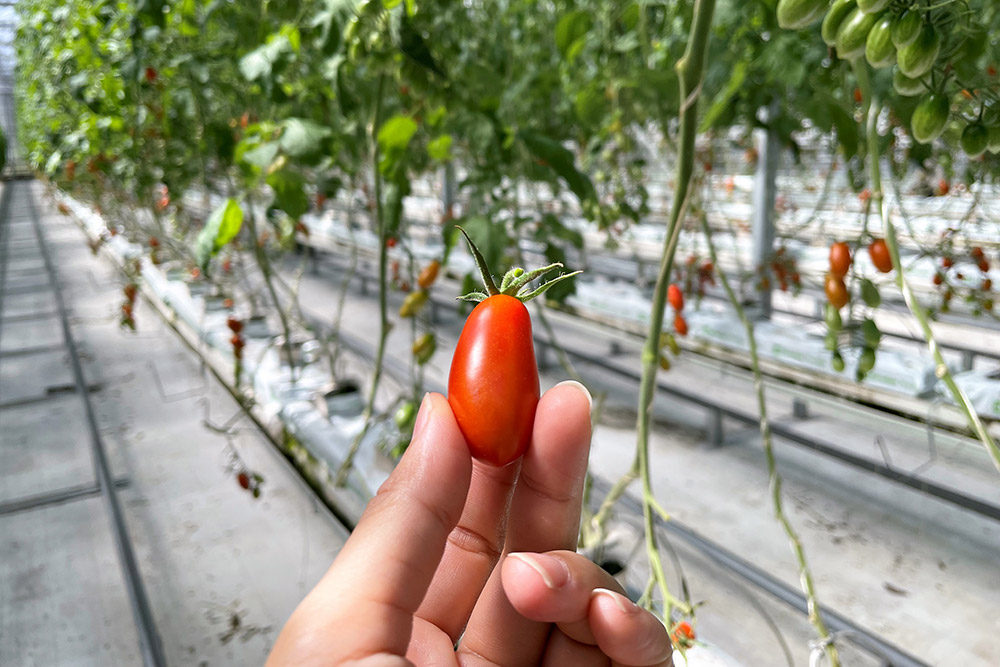 One very popular activity that Wonder Farm now offers visitors is tomato-picking. "Lots of little children come here now. When they eat the tomatoes they've picked themselves, they realize how good fresh tomatoes are," Motoki says.
He picks a ripe tomato from a plant and places it in the palm of his hand. "After the leisure farm opened," he says, "I invited my best friend to help me launch a restaurant. We decided to enrich the dining experience by using home-grown tomatoes and other local ingredients."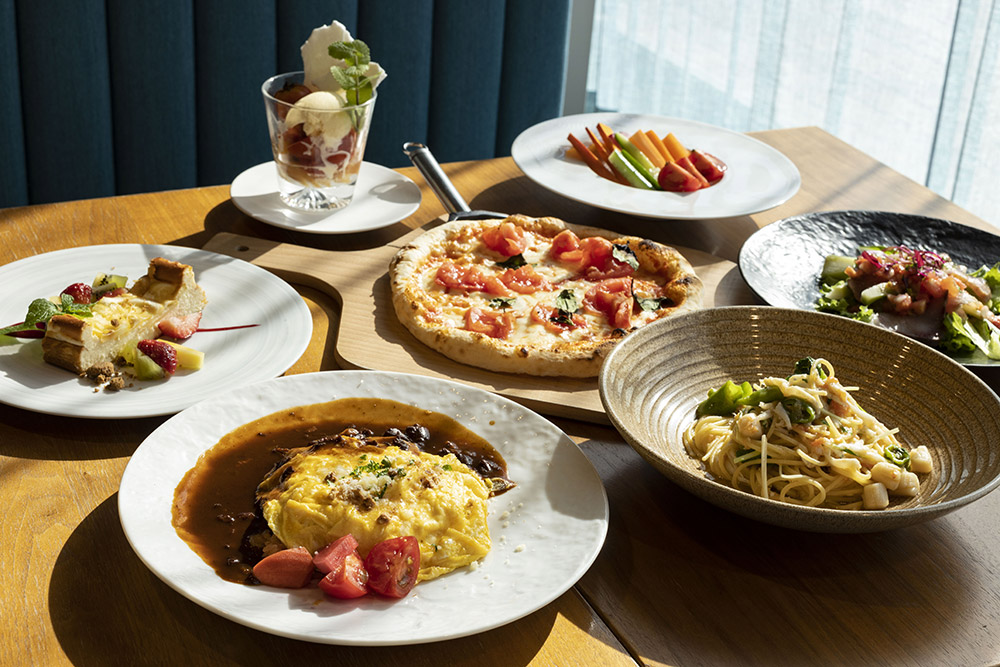 The menu of Cross Wonder Dining, the restaurant now attached to the farm, offers Western items such as pizza and pasta, as well as Japanese dishes like omuraisu (omelet over rice) and sukiyaki. Motoki says, "As long as it's a creative dish that can be made with tomatoes, it doesn't matter if it's Japanese or Western. We also hope that through this restaurant, people will learn about the appeal not just of tomatoes, but of other agricultural products of the Hamadori area—the coastal side of Fukushima."
In addition to tomato picking and gourmet dining, Motoki has further enhanced the Wonder Farm experience. The Mori no Marche (Forest Market) is a direct sales shop that sells additive-free tomato juice and other goods from Wonder Farm, as well as agricultural produce from nearby farms and popular souvenirs from all over Fukushima Prefecture.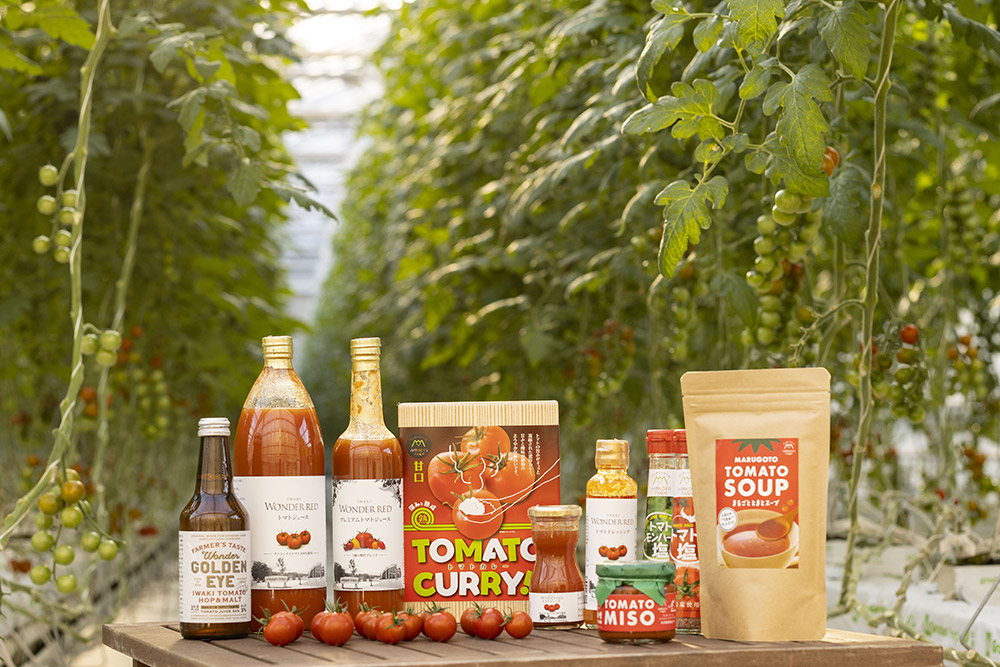 A barbecue and camping program allows visitors to enjoy spectacular views of the night sky, with all camping supplies provided by the farm. "Guests can also use Wonder Farm as a stopping point on the way to other popular local experiences, such as cycling and mountain climbing, says Motoki. "And we are planning to build an inn nearby to provide guests with a relaxing place to stay while they experience activities on the farm. The story of Motoki's efforts to revitalize the area is only just beginning.